Summer Dance Programs
Now through Thursday, August 16th
with the week of July 3rd off
In addition to our regular dance classes offered throughout the school year, Innovations Dance Center also offers summer dance classes for dancers who wish to work on their techniques and skills over the summer months.
Classes begin the week of June 19th. Registration for classes for the summer dance programs is free and tuition may be paid online or in person. Please contact us with any questions.
The first step to becoming a successful dancer is making a solid commitment to your classes. Strong technique is a key ingredient and class is where you develop that technique. Come to each class prepared to learn and without personal distractions. Class time is your chance to focus on yourself, so try to leave your concerns or worries at the studio door. True progress is made when you look at each class as an opportunity to become better at what you love to do. Dance full-out, stretch a little further, become more aware of your technique, and make the most of every class
Don't wait – Classes fill up fast!
Summer 2018 Tuition Rates
Summer classes begin Tuesday, June 19th and run through Thursday, August 16th with the week of July 3rd off. There is no registration fee for the Summer classes and tuition must be paid in full prior to classes beginning.
Please Note: We now offer online payments. All payments made online are subject to a 5% convenience fee (not included in prices below). 
1 class – $95.00
2 classes – $160.00
3 classes – $221.00
4 classes – $278.00
5 classes – $329.00
6 classes – $374.00
Dance Company is separate – $40.00 per month
For ages 3 – 5 yrs
Tuesdays – 6 pm

Our Creative Dance classes are designed to help your child develop a love of dance. The steps we teach, the songs we sing, the games we play, and the exercises we do are all geared to the pre-school learning level. We encourage student imitation through our activities. Songs and dances are simple enough for the youngest students to execute easily, which enables them to build a feeling of self-confidence. Our classes stress the importance of warming up the muscles before beginning any form of movement. Each class is a mix of ballet, tap, and tumbling.
The discipline of ballet is introduced in various ways. Graceful arm movements, balance, learning right from left, rhythm, and coordination are also part of the class. The tap portion of the class teaches young students some very basic tap steps and is designed to prepare children for the tap levels to follow as they grow and become more experienced dancers.
In the tumbling portion of class, dancers will learn the basics of floor tumbling including forward rolls, backward rolls, cartwheels and fundamental strengthening and coordination skills. Our experienced instructors ensure optimal safety for all our tumblers.
For ages 6 – 7 yrs
Tuesdays – 5 pm

Our combo classes allow younger students to experience a variety of dance styles before progressing to the more advanced levels. These introductory classes are for students ages 6-7, and provide an overview of dance technique in the following disciplines:
• Ballet/Acro
• Jazz/Tap
• Jazz/Acro
• Hip Hop/Acro
For age 8+ yrs
Tuesdays – 8 pm
Ballet is a classical dance form that develops correct technique, posture, body alignment, flexibility, and control. Ballet's structure helps build self-discipline in the student, and the technique learned in ballet class can be applied to all other dance disciplines. A typical class consists of barre work, center work, and combinations across the floor. This class also includes exercises that focus on strengthening and stretching the feet, and techniques and strength work required for pointe.
For age 8+ yrs
Wednesdays – 5 pm
Tap is a percussive style of dance focused on rhythm and sound. In class, students work on their timing, clarity, balance, coordination, articulation of the feet and ankles, and intricate rhythms. Throughout the different levels of tap, these rhythms become more complex.
For age 8+ yrs
Thursdays – 7 pm
Acrobatics teaches flexibility, strength, balance, muscle control, concentration, and discipline. This class focuses on fundamental acrobatic technique. Students will learn floor skills used in gymnastics, such as handstands, chin stands, elbow stands, cartwheels, back bends, walkovers, and tumbling (in advanced levels). This class is great for students looking to enhance their agility, flexibility, and strength.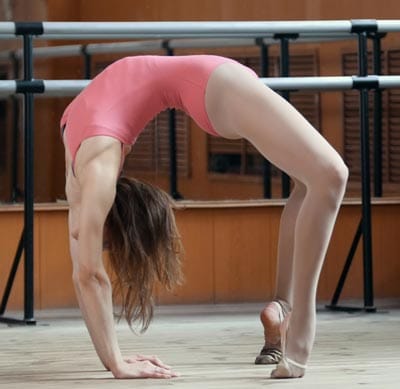 Stretch/Strength (offered in Summer Program only)
For age 8+ yrs
Thursdays – 5 pm
This class focuses on elongating and strengthening muscles to give dancers more power and strength. Dancers will learn how to lengthen their legs, arms, and feet, and increase their turnout and flexibility. This class is designed to enhance dancers' technique in jumps, leaps, and turns.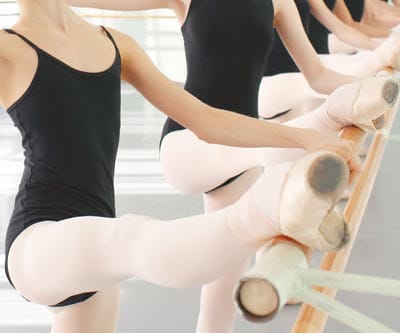 For age 8+ yrs
Tuesdays – 5 pm
The Innovations Dance Center Contemporary dance class combines parts of several types of dance, including modern, jazz, classical ballet and lyrical. The expressive style of dance teaches dancers to connect the body and mind through fluid movements.
For age 8+ yrs
Tuesdays – 6 pm
Modern dance, a style of expressive dance developed in the 20th century, combines elements of Ballet, Lyrical and Jazz dance. While less formalized than classical ballet, our Modern Dance class stresses versatility and improvisation, freedom of movement, and focuses on floor work, bodily movements, and rhythm techniques.
For age 8+ yrs
Thursdays – 7 pm
Hip Hop is an expression of contemporary movement that is constantly changing with current trends and draws from dances created on the street. This high energy form of dance will highlight popular dance steps and music seen in current music videos.
For age 8+ yrs
Thursdays – 6 pm
Leaps and Turns Class places focus on understanding correct body alignment and works on isolating the correct muscle groups used while executing beginner to advanced leaps and turns.
For age 8+ yrs
Tuesdays – 7 pm
Our Cheer Dance class focuses on the dance portion of cheerleading, instead of tumbling and stunts. The dancing is made up from line dance, hip-hop, jazz and pom dance styles and focus on refining specific dance skills, team coordination efforts and choreography techniques. This is a high-energy class!
For age 8+ yrs
Tuesdays – 7 pm
Musical Theater classes combine jazz, acting, and sometimes lip-synching to Broadway music. Students work on jazz technique and combinations that blend acting with dancing, and learn to showcase their personality and prepare for musical theater auditions.
For age 8+ yrs, must be able to do a round off
Thursdays – 8 pm
Tumbling/Acro dance is a style of dance that combines classical dance technique with precision acrobatic elements. It is defined by its athletic character, its unique choreography, which seamlessly blends dance and acrobatics, and its use of acrobatics in a dance context.
Our dance company is available to any student age 8 and older who is interested in technically improving beyond their normal dance classes, and performing when the director feels they are ready. They must be willing to adhere to all rules and regulations of the dance company.
To find out out more about our Dance Company classes, or to register for them, please send us a message or call Sherry Rouscher at 717-755-6259.
Party in Agrabah Dance Camp
For Prince & Princesses ages 3 – 5 yrs
Climb aboard your magic carpet and fly to Innovations Dance Center's Party in Agrabah Dance Camp! Join Miss Mary and her genies for five Arabian Days filled with exciting desert-themed games, crafts, snacks, music, and lots of dancing.
Don't wait – Classes fill up fast!
Innovations Dance Center has some of the area's top dance and acro instructors skilled in working with youth.
Studies have shown there are many benefits of studying dance for boys and girls. Find out how dance can benefit your child.
We'd love to hear from you!
Contact us today with any questions or comments you may have about our Dance Center.