Co-Owner, Instructor, & Dance Company Director
Sherry is a certified member of Dance Masters of America, Inc. and Mid-Atlantic Dance Masters Chapter 17. In New York, she studied on a scholarship at the Broadway Dance Center under such teachers as A.C. Cuilla, Sheila Barker, Germaine Goodson, Finis Jhung, Savion Glover, Ann Reinking, and Frank Hatchett.
Sherry's New York experiences include: television special with Brooke Shields, an Esprit clothing commercial, MTV's The Real World New York (the first season – 2 episodes), danced with Jennifer Lopez and Lane Napper (co-star and choreographer on Victorious), and was the primary demonstrator for internationally known jazz teacher Frank Hatchett at dance conventions. Other performance opportunities: Disney World and Universal Studios Florida. She has performed locally in numerous York Little Theater and Fulton Theatre productions, and was the lead dancer for the Lancaster Dance Company.
Sherry began her dance training in York, PA at her great-aunt Darleen Paddison's Dance Studio, where she eventually became an instructor. In 2008, she and fellow teacher Karen Adamson purchased the business, creating Innovations Dance Center.
Karen has loved to dance since starting at Darleen Paddison's Dance Studio in 1971 at the age of 6.  When she was 16, she began assistant teaching, and she continued on to teach her own classes at 20 years of age.  In 2008, she and long- time friend and fellow dancer, Sherry Rouscher, bought the studio, and it became Innovations Dance Center.
Karen has performed in Universal Studios and Disney's Magic Kingdom.  She has attended the Dance Teacher Summit in New York City in 2006, 2008 and 2011, and has taken class at the Broadway Dance Center.
Teaching young dancers is her favorite part of what she does. They are eager to learn, uninhibited, and enthusiastic.  She loves to watch them grow into not only beautiful dancers but respectable and independent, young people.  Dance gives them a place of their own, as they learn to express themselves and be comfortable with who they are.  It is her hope that they will call the studio home the way she and her fellow staff do.
Katie started dancing at Darleen Paddison's Dance Studio in 1997. Through her journey of dance she has taken jazz, tap, lyrical, ballet, and her favorite, pointe. She started assisting classes in high school and became Innovations Dance Center's Company captain in 2008. She graduated high school in 2009 and shortly after joined Clarion University's dance team. During her senior year she became caption of the team. She choreographed dances the team would perform at football games, basketball games, wrestling matches, as well as parades. Once Katie graduated college with a degree in Early Childhood and Special Education her dance journey seemed to slow down resorting only to Zumba classes at a local gym. However, that just didn't seem the same. Four years later after graduation she was asked to teach summer classes and found absolute joy during that time and was asked to be a part of the family at Innovations Dance Center.
Samantha is a recent graduate from Eastern University with a B.A. in Dance and a B.S. in Environmental Science. Her early training began at Innovations Dance Center, where she studied jazz, tap, ballet, and modern. At Eastern University, she continued her technical training, performed in numerous dance concerts, and set choreographic works for the stage.
In 2019, Samantha performed her original work "As the Water Rises" and co-choreographed work "Progression." In 2020, she prepared to present her senior thesis entitled "Again, My Mountain Calls." In addition, she was co-president of Eastern Dance Ministry and president of Eastern Dance Club. In 2018 and 2019, Samantha attended various workshops and performed at two American College Dance Association (ACDA) festivals adjudicated by dance professionals, including Thomas F. DeFrantz, Loretta Livingston, Christine Knoblauch-O'Neal, Charles O. Anderson, Leslie Kraus, and Michael J. Morris. Recently, she prepared to present "Progression" at ACDA 2020. In addition, Samantha is a company member of NetCo Dance Company in Lancaster, PA and a dance instructor at Innovations Dance Center.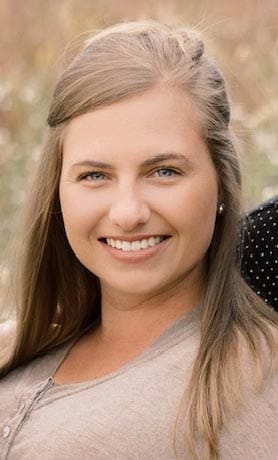 Lauren started in dance at Darleen Paddison's Dance Studio when she was 4 years old. Throughout the 14 years of dancing, she took as many classes that her mom would allow. Her favorite being the dance company where she performed at Disney, 76ers games, and the Macy Thanksgiving Day parade. Lauren was also an assistant dance teacher throughout high school with her preference being the toddlers to teach. She says, "Seeing the world through the eyes of a child is the purest joy that you can experience!"
Lauren went to college to become a Registered Nurse and has worked as an RN at Women and Babies Hospital since 2015. When she isn't at work, she enjoys camping, hiking and disc golfing with her husband, Bobby and twin daughters, Willow & Wynnie!
Cody began her dance journey at the age of 6 at Darleen's Dance Studio. She continued to dance throughout her childhood along with assistant teaching until she graduated in 2008 from West York High School. When Cody danced with Darleen's Dance Studio, she enjoyed taking tap, ballet, lyrical, jazz, and was a member of Innovations Dance Company. Cody performed at many different places with Innovations Dance Company and was also the co-captain of the company. Cody recently taught for two years at Innovations Dance Center, until she had to take a break from teaching due to other obligations. When Cody taught before she taught Creative Dance 1 &2 and Kinder dance. Cody is very excited to return to teaching after taking a year off!
In Cody's professional career she is a Kindergarten teacher at The School District of the City of York. She started her teaching journey with the district 7 years ago. Cody has a teaching degree in Early Childhood Education that she earned at Millersville University in 2013. Cody is continuing her educational journey by currently working on getting a master's degree in educational leadership at York College of Pennsylvania. Her expected graduation date is December of 2024.
Cody just recently had her first baby in February 2023. Her husband and her have enjoyed welcoming Mason into their lives and cannot wait to see what the coming years will bring! On top of spending time with her husband Jeremy and son Mason, Cody enjoys reading, relaxing on the beach, spending time with their dog Murphy, and spending time with friends.
Coming from a small county in central PA, Danielle started dance in 1989 at the age of 3 at Point Dance Studio that was ran by her Aunt Rachelle. Dancing four nights a week, she took all the classes she could that included ballet, tap, jazz & pointe. As she got older, she helped her aunt run the classes with the younger children, along with choreographing several numbers. At the age of 12, she auditioned with the Louisville Ballet Company and was chosen to dance in the performances of The Nutcracker. At 16, she was chosen to dance at the halftime show of the Florida Citrus Bowl, making a TV appearance during the New Year's game.
After graduating high school in 2004, Danielle went to college at Millersville University and then to York college of Pennsylvania to obtain a degree in science of respiratory therapy. She has been working as a respiratory therapist since 2009.
When she is not working, she is spending time with her two daughters Avalyn and Hailey, along with her 2 Siberian huskies and husband Matt.
Angela Nguyen grew up as a self-taught dancer from Harrisburg, PA. Some of her performance credits include Knoebels Amusement Resort, Mandalorian Music Video, and Club Jete in Los Angeles, CA. Currently, Angela instructs Street Jazz at Morton's Dance Center in Lancaster, Hip-Hop at EM Studios in Hershey, and she is looking forward to working at Innovations Dance Center in York!