Stretch/Strength
(offered in Summer Program only)
The first step to becoming a successful dancer is making a solid commitment to your classes. Strong technique is a key ingredient and class is where you develop that technique. Come to each class prepared to learn and without personal distractions. Class time is your chance to focus on yourself, so try to leave your concerns or worries at the studio door. True progress is made when you look at each class as an opportunity to become better at what you love to do. Dance full-out, stretch a little further, become more aware of your technique, and make the most of every class.
Our regular dance season runs from September through early June. Enrollment is open through the end of October. Please contact us for late enrollment. There is no enrollment or class schedule changes after November 1, however, we do offer a waiting list, as well as summer programs.
In addition to our regular dance classes offered throughout the school year, Innovations Dance Center also offers summer dance classes for dancers who wish to work on their techniques and skills over the summer months.
Our Creative Dance classes are designed to help your child develop a love of dance. The steps we teach, the songs we sing, the games we play, and the exercises we do are all geared to the pre-school learning level. We encourage student imitation through our activities. Songs and dances are simple enough for the youngest students to execute easily, which enables them to build a feeling of self-confidence. Our classes stress the importance of warming up the muscles before beginning any form of movement. Each class is a mix of ballet, tap, and tumbling.
The discipline of ballet is introduced in various ways. Graceful arm movements, balance, learning right from left, rhythm, and coordination are also part of the class. The tap portion of the class teaches young students some very basic tap steps and is designed to prepare children for the tap levels to follow as they grow and become more experienced dancers.
In the tumbling portion of class, dancers will learn the basics of floor tumbling including forward rolls, backward rolls, cartwheels and fundamental strengthening and coordination skills. Our experienced instructors ensure optimal safety for all our tumblers.
An extension of Creative Dance 1 and 2, Kinderdance continues to introduce new concepts to younger dancers in a fun way. Dancers will learn more complex ideas, including:
• Ballet: all 5 positions of the feet, and traditional arm positions used in classical ballet
• Tap: more advanced rhythms and patterns
• Tumbling: headstands, back bends, and different types of cartwheels
• More complex choreography and combinations, including basic jumps
In Kinderdance, the focus is still on having fun and building self-confidence, but there will be more emphasis on proper body placement and the fundamentals of dance technique.
Our combo classes allow younger students to experience a variety of dance styles before progressing to the more advanced levels. These introductory classes are for students ages 6-7, and provide an overview of dance technique in the following disciplines:
• Ballet/Tap
• Ballet/Jazz
• Hip Hop/Tap
Ballet is a classical dance form that develops correct technique, posture, body alignment, flexibility, and control. Ballet's structure helps build self-discipline in the student, and the technique learned in ballet class can be applied to all other dance disciplines.
A typical class consists of barre work, center work, and combinations across the floor.
Pre-Pointe classes are for students who are not yet ready for a full pointe class, but are ready to be working toward that goal. Exercises in this class involve strengthening and stretching the feet, and articulating the bones and muscles of the feet.
It takes years of preparation and ballet class to graduate to the level of technique and strength required for pointe work. Innovations instructors will evaluate each student as to when she is ready to safely begin pointe; this class is by invitation only. Once in pointe class, dancers will gradually work toward the comfort level to complete all ballet steps on pointe.
Tap is a percussive style of dance focused on rhythm and sound. In class, students work on their timing, clarity, balance, coordination, articulation of the feet and ankles, and intricate rhythms. Throughout the different levels of tap, these rhythms become more complex.
Jazz is a class that teaches the discipline of dance and strong technique. Class includes a thorough warm-up, center combinations, and technique progressions across the floor. Jazz has a wide range of styles and interpretations, including Broadway jazz and commercial jazz. Jazz classes are always upbeat and high energy!
The Innovations Dance Center Contemporary dance class combines parts of several types of dance, including modern, jazz, classical ballet and lyrical. The expressive style of dance teaches dancers to connect the body and mind through fluid movements.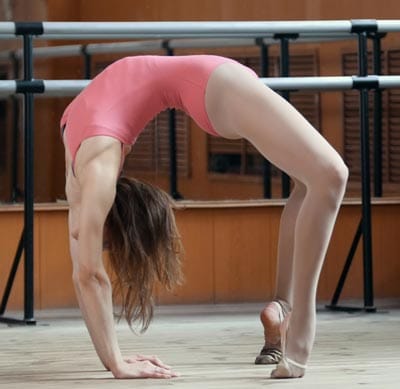 Acrobatics teaches flexibility, strength, balance, muscle control, concentration, and discipline. This class focuses on fundamental acrobatic technique. Students will learn floor skills used in gymnastics, such as handstands, chin stands, elbow stands, cartwheels, back bends, walkovers, and tumbling (in advanced levels). This class is great for students looking to enhance their agility, flexibility, and strength.
Lyrical is an expressive combination of Ballet and Jazz technique that challenges dancers to use motion to interpret music and express emotion. It allows the student to be more creative, emotional, and free with their movement, while remaining focused on technique.
Modern dance is a style of expressive dance that combines elements of Ballet, Lyrical, Jazz, and Modern. It stresses versatility and improvisation, freedom of movement, and focuses on floor work.
Musical Theater classes combine jazz, acting, and sometimes lip-synching to Broadway music. Students work on jazz technique and combinations that blend acting with dancing, and learn to showcase their personality and prepare for musical theater auditions.
Hip Hop is an expression of contemporary movement that is constantly changing with current trends and draws from dances created on the street. This high energy form of dance will highlight popular dance steps and music seen in current music videos.
Our dance company is available to any student age 8 and older who is interested in technically improving beyond their normal dance classes, and performing when the director feels they are ready. They must be willing to adhere to all rules and regulations of the dance company. Rehearsals are every Saturday morning during the dance year from 9:00 a.m. – 12:00 p.m., and Wednesdays during the summer from 6:00 p.m. – 9:00 p.m.
To find out out more about our Dance Company classes, or to register for them, please send us a message or call Sherry Rouscher at 717-755-6259.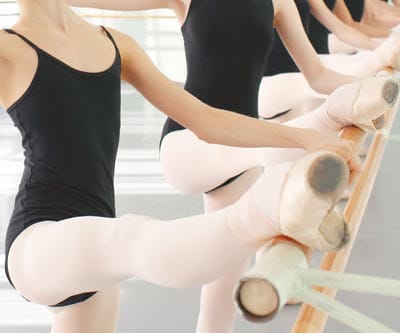 Stretch/Strength
(offered in Summer Program only)
This class focuses on elongating and strengthening muscles to give dancers more power and strength. Dancers will learn how to lengthen their legs, arms, and feet, and increase their turnout and flexibility. This class is designed to enhance dancers' technique in jumps, leaps, and turns.
Leaps and Turns 
(offered in Summer Program only)
Leaps and Turns Class places focus on understanding correct body alignment and works on isolating the correct muscle groups used while executing beginner to advanced leaps and turns.